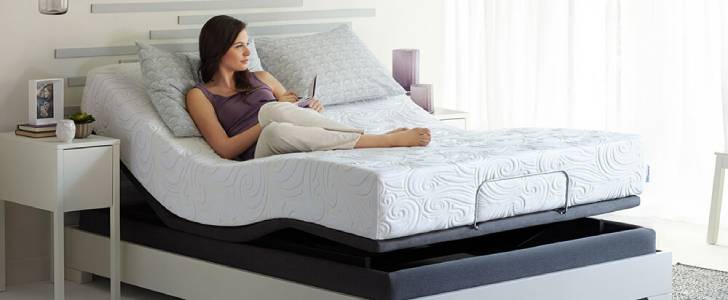 Adjustable mattresses for Marinette
An adjustable mattress is any that is able to adjust the upper or lower body portions of the bed. Adjustable mattresses can help improve the quality of your health and sleep. Originally developed for hospital beds, these mattresses are the ultimate in-home comfort and accessibility. Affordable adjustable mattresses from The Pillowtop Factory will help you fall asleep faster and stay asleep longer. Pair your adjustable mattress with an adjustable base to get the most out of your purchase. Check out our affordable mattress payment plans to get an adjustable mattress to save on your next mattress, and schedule an appointment with The Pillowtop Factory today! Schedule an appointment today to get started and save!
Benefits of Adjustable Mattresses
Despite any extra costs or enlarged sizing, there are many advantages that come with purchasing an adjustable mattress. Adjustable mattresses are good for reducing pain, inflammation, acid reflux, as well as, increasing comfort, restful sleep, circulation, & versatility. All of The Pillowtop Factory's mattresses for sale come in varying sizes, including:
Adjustable Beds For Sale in Marinette
The Pillowtop Factory sells adjustable mattresses from Sealy, Posturpedic, Perfect Sleeper, Serta, Simmons, and Five Star. Preset adjustments make transitioning between sitting and laying down effortless. Firmness and height adjustments allow for customized comfort for any position. Adjustable mattresses are equally comfortable for sleeping, reading, or watching TV. Mattresses feature head and lumbar adjustments up to 90 degrees and foot adjustments up to 70 degrees.
Quick Mattress Delivery
If you are planning a move, we will deliver your mattress to your new home on your move-in day. Let us do the heavy lifting and transport your mattress for you. Whether you are moving tomorrow, next week, or the following month, we will happily deliver your new mattress to you. Your purchase is always shipped securely and arrives in protective packaging to make your mattress installation as effortless as possible.
The Pillowtop Factory offers helpful financing on all mattress sizes and brands. Financing is available to anyone with good or bad credit. All you need is a $15 down payment and you can bring your new bed home today!