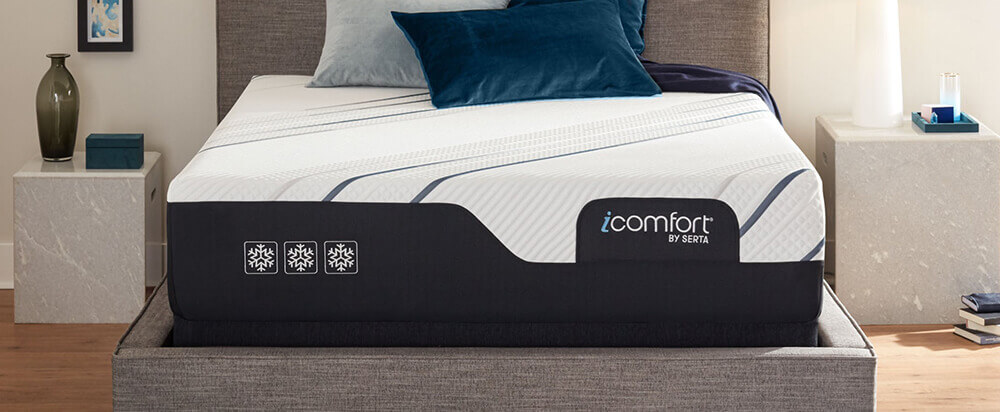 Affordable memory foam mattresses in Marinette
Our memory foam mattresses are as affordable as they are comfortable! With no credit checks and a down payment of only $15, you can shop our brand-name memory foam mattresses on any budget with our mattress payment plans. The Pillowtop Factory carries brands including:
At our store, you'll be able to shop on your own and bring your mattress home the same day. The Pillowtop Factory prices are so low, we save you 50-80% in comparison to retail costs. Schedule an Appointment today to get started and save!
Benefits of Memory Foam Mattresses
Compared to other mattress types, memory foam offers support, comfort, and durability. Memory foam helps to reduce motion transfer, allergy symptoms, pain, and discomfort. The Pillowtop Factory offers memory foam mattresses that are perfect for whatever kind of sleeper you are. Memory foam mattresses fit any sleeping position, including stomach, side, back, and everything in between.
Memory Foam Mattress Delivery in Marinette
When you purchase a mattress at our Marinette showroom, enjoy a prompt delivery from The Pillowtop Factory. Unlike other retailers, our mattresses don't come from a distribution center so you can enjoy a comfortable night's sleep as soon as possible. All of our mattresses ship right from our showroom directly to your home in secure packaging. Planning a move? we will deliver your mattress to your new home on your move-in day for a hassle-free installation.
Memory Foam Mattresses For Sale
The Pillowtop Factory has financing options for people with good credit and bad credit. With just $15 down on your new bed, you can take it home the same day! No interest on any bed for 100 days. All you need in order to purchase a mattress from us is a checking account, a $15 down payment, and an income. We want all our customers to sleep well at night, knowing their new bed is properly financed. Call or visit our store today for more information on mattress options and financing.