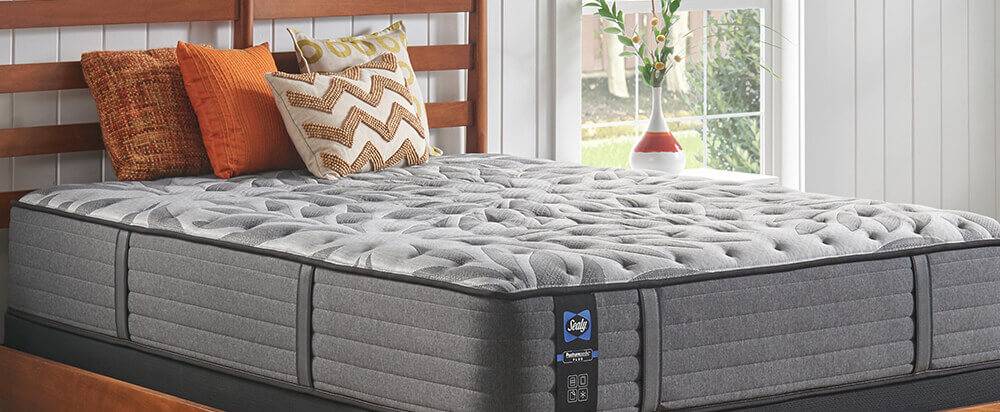 Low cost box spring mattresses
Mattresses by Appointment has the largest selection of value-priced pocketed coil mattresses in greater Milwaukee. Browse our collection of name-brand pocketed coil mattresses and make your choice for only a $15 down payment. Pocketed coil mattresses provide excellent support at affordable prices. Save even more money with our mattress payment plan prices which are 50-80% less than other retailers. Schedule an appointment today to get started and save!
Best Pocketed Coil Mattress For Sale
Pocketed coil mattresses offer several advantages over innerspring designs. Pocketed coils are individual and isolated from one another to reduce motion transfer throughout the mattress. Support is unique to the contours of your body so your weight is spread evenly and supported properly. The Pillowtop Factory sells pocketed coil mattresses from Sealy, Posturpedic, Perfect Sleeper, Serta, Simmons, and Five Star. Stop into our showroom in Marinette to purchase a quality pocketed coil mattress at the lowest possible price.
Mattresses For Sale in Marinette
At The Pillowtop Factory, we make sure you leave our showroom with a high-quality pocketed coil mattress no matter your budget. Our mattress selection is constantly updated and restocked with new products so you can always have a generous selection to choose from. Rest easy knowing that you will find a mattress that offers the correct support and a restful night's sleep. When choosing a new mattress from our Marinette showroom, consider the following criteria:
Comfort
Type
Size
Brand
Price
Quick Mattress Delivery in Marinette
If you purchase a mattress at our showroom and do not have the means to take it back to your home, take advantage of our delivery service. The Pillowtop Factory will even deliver your mattress to your new home on your moving day. Your mattress will be wrapped in plastic and securely shipped in protective packaging to prevent damage during shipping.